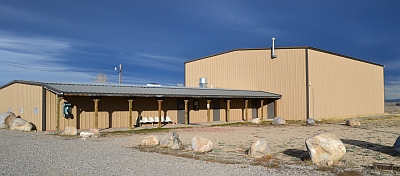 Our purpose is to provide recreational alternatives for the residents and property owners of the Clark and Pioneer communities in Park County, Wyoming.
---
Jubilee 2016 will be held on June 25,2016. Mark it on your calendar and plan to attend! See the poster on the Feature page. For more information call Shirley Bentley at 645-3229 or Cathy Ringler at 645-3255.
---
Clark Residents -- If you are interested in helping out at Jubilee On June 25, we encourage you to attend the next Jubilee Meeting on Tuesday, May 31st at 3:30PM at the Rec Center!
---
To reserve this facility for your activity or event please call Clark Pioneer Recreaton Project Coordinator Amy Lewis at 307-202-0971.
---
How to find us...


Come to Edelweiss Corner on Highway 120 and turn toward the mountains on Road 1AB. The Center is 4.5 miles from Edelweiss on the north side of the road just before the turnoff to the Clark's Fork Canyon, across the road from the Clark Volunteer Fire Department building.