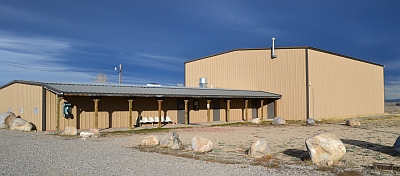 Our purpose is to provide recreational alternatives for the residents and property owners living in and around Clark and Pioneer, Wyoming in Park County, Wyoming.
---
Jubilee 2016 needs volunteers to make it a success and fun for all. Meet people, have fun and make a difference in your community! The the Clark Jubilee will be held on June 25,2016. We need people to organize competitions and/or demonstrations on the soccer field, help with the Fun Run, Clark Mart, parade, rodeo, kids' games and crafts, parking cars, concessions, photography, advertising, set up and clean up, musicians, car and/or tractor show, adult games, shuttling people from the Rec Center over to the Fire Hall, or any other idea you have. Let's all work together to make this a Jubilee to remember! Call Shirley Bentley at 645-3229 or Cathy Ringler at 645-3255.
---
Park County Residents,
We are currently accepting bids for lawn care at the Clark Pioneer Recreation Center. The job will include mowing the ball field and applying fertilizer spring and fall as well as weed suppression around the playground, ball field, and building. We will accept bids on the entire package of lawn care or individual bids for lawn mowing, fertilizing, or weed suppression. Applicants will need to use their own equipment.
If you are interested in bidding, we would appreciate your quotation on or before 1:00 p.m. Monday, May 2, 2016. Send or deliver your bid to Clark Pioneer Recreation Project, 321 Road 1AB, Clark, Wyoming 82435. We hope to hear from you soon. For more information contact Shirley Bentley at 645-3229.
---
Please welcome Rich Alberta to the Board. He's been appointed to fill the seat vacated by Larry Dodge!
---
Check the Events page for upcoming events. And don't miss the new article about Canyon Cards on the Feature page!
---
To reserve this facility for your activity or event please call Clark Pioneer Recreaton Project Coordinator Amy Lewis at 307-202-0971.
How to find us...


Come to Edelweiss Corner on Highway 120 and turn toward the mountains on Road 1AB. The Center is 4.5 miles from Edelweiss on the north side of the road just before the turnoff to the Clark's Fork Canyon, across the road from the Clark Volunteer Fire Department building.