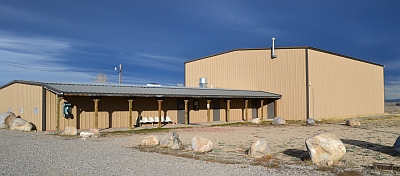 Our purpose is to provide recreational alternatives for the residents and property owners of the Clark and Pioneer communities in Park County, Wyoming.
---
Winter is here in full force. We are working on keeping the rec center accessible for our community. Please be very careful and safe. Amy
---
Happy New Year! Welcome 2017! We would love your feedback and or New fun Ideas for activities at the Rec Center. We have a mailbox attached to the building next to the Door. Please feel free to use it! I hope you are all Excited about this wonderful New Year!
To reserve this facility for your activity or event please call Clark Pioneer Recreation Project Coordinator Amy Lewis at 307-202-0971.
---
How to find us...


Come to Edelweiss Corner on Highway 120 and turn toward the mountains on Road 1AB. The Center is 4.5 miles from Edelweiss on the north side of the road just before the turnoff to the Clark's Fork Canyon, across the road from the Clark Volunteer Fire Department building.