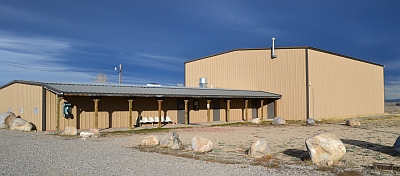 Our purpose is to provide recreational alternatives for the residents and property owners of the Clark and Pioneer communities in Park County, Wyoming.
---
Spring Forward! Please Check out our Calander to see when Sue is doing Zumba! Time to get in shape and she is the one to do it. It does not matter what shape you are in come on down!
---
The CLARK JUBILEE is COMING Saturday June 24th! This years theme is 30 YEARS OF CELEBRATION AND THE NEXT GENERATION. We'd like to invite babies and children under 5 and their parents to be our Grand Marshals in this years parade. FULL DETAILS ARE NOW AVAILABLE ON THE FEATURE PAGE! Volunteers are always WELCOME and we can use YOUR help. To sign up or for more info call Shirley 645-3229 or Cathy 645-3255. DON'T MISS ALL THE FUN AT THIS YEAR'S JUBILEE!!!
---
The Bathroom Reno is still under way. Please thank Sue Hoffert for all her hard work! The Ladies restroom is nearly finished. Then the boys restroom will be under construction.
To reserve this facility for your activity or event please call Clark Pioneer Recreation Project Coordinator Amy Lewis at 307-202-0971.
---
How to find us...


Come to Edelweiss Corner on Highway 120 and turn toward the mountains on Road 1AB. The Center is 4.5 miles from Edelweiss on the north side of the road just before the turnoff to the Clark's Fork Canyon, across the road from the Clark Volunteer Fire Department building.